Today's theme was the COLOR GREEN! Since it's St. Patrick's Day, that worked out perfectly!
This is the fifth program in my Preschool Colors Series.
Books We Read:
Green- Seeger (my opening book and the best one of the day! Kids came right up to see the illustrations, they LOVED it!)
Little Green- Baker
Go Away Big Green Monster- Emberley
There Was an Old Lady Who Swallowed a Clover- Colondro (I loved how it tied to today's themes but kids were just ok for it)
Where Is the Green Sheep- Fox (Really kept their attention!)
Nibble's Garden- Middleton (cute but just ok for storytime)
Flannel Story: Leprechaun, Leprechaun, What Do You See?
I found this cute idea on Storytime ABC's.
It was very fun and easy to make with clipart. For the words/more info, click the link above!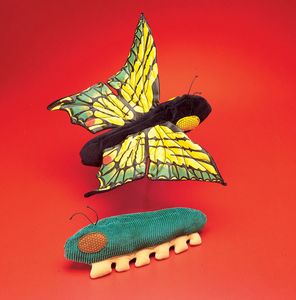 Love this puppet!
Puppet: Folkmanis Caterpillar/Butterfly
Since there were caterpillars in the Middleton story, I brought this puppet out & asked what color he was and what caterpillars turn into. Of course, then everyone wanted to make him turn into a butterfly! We only had about 10 kids so after we finished stories & songs, I gave each one a chance.
Craft: Shamrock Puppets
I found these cute boy & girl puppets online so I printed them on green card stock for the kids to color & cut. I also brought out the green glitter to jazz them up a bit more & they turned out great!
We had our usual preschool crowd of about 10 kids today. My favorite things from the program were the Seeger book, the flannel board & also the Emberley story. A nice morning!