Earlier this month, I was lucky enough to attend Tri-State 2014 Book Buzz @Random House. I usually miss out on cool stuff like this because of previously scheduled programs or staff shortages, etc. Also, the long trek into Manhattan is not always my favorite way to spend the day but in this case, it was so worth it!
First off, the view from the conference room at RH is amazing! I don't know how anyone on the staff gets any work done with a view like that. Seriously though, it seemed like a really awesome place to work.
the gorgeous view from the Louis L'Amour Room
Anyway, over twenty publishing houses gave short presentations about their upcoming titles for both teens and kids, so it was really interesting. They even provided breakfast, lunch and cute tote bags filled with ARCs for all the librarians.
Since the first books to catch my eye are always the picture books, my notes focus mostly on that format. However, we did get to see a huge variety of all sorts of titles for a wide range of ages.
Wish by Matthew Cordell
3/3/15
about a new baby in the family; love this author! And this cover alone puts a smile on my face!
Templeton Gets His Wish by Greg Pizzoli
5/5/15
from author of the wonderful book The Watermelon Seed
Completely Clementine by Sara Pennypacker
3/3/15
last one in series!
The War that Saved My Life by Kimberly Brubaker Bradley
1/8/15
on WWII; I loved her previous book Jefferson's Sons -- it was amazing!!
The Little Mouse Who Lost her Squeak &
the Little Fox Who Lost His Tail by Jedda Robaard
1/15
I can never have enough "Lift the Flap" books and how adorable is the cover art?!!!!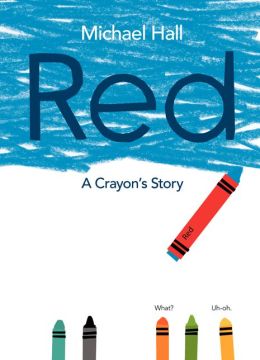 Red by Michael Hall
2/3/15
About a crayon who is really blue! From the author of Perfect Square
Touch the Brightest Star by Christie Mattheson
5/26/15
If you like Tap the Magic Tree as much as I do, you will look forward to this one as it's supposed to be very similar in style!!)
If You Plant a Seed by Kadir Nelson
3/3/15
LOVE his beautiful artwork!
Ice Cream Summer by Peter Sis
5/26/15
Although I could not find the cover art online yet, trust me, the illustrations looked very cute!!!!
Night Owl by Yuly
1/15
from the author of Early Bird. I love the simple text of these books -- perfect for babies & toddlers.
Won Ton and Chopstick by Lee Wardlaw
3/15
I don't usually get this excited about poetry but I'm a huge Won Ton fan!
Fish Food by Andy Mansfield
4/7/15
It's a Pop Up book so I already love it, LOL!
Also:
Look! by Jeff Mack
"It's a Book"-ish (Not much art or info available yet)
AND last but not least, there are lots of new Who Was... and What Was... on the way, like Galileo, Wayne Gretsky, Harriet Beecher Stowe, etc. These titles are super popular at my library.